Tropical Storm Odile continues to make waves in the Pacific Ocean. The NHC is forecasting that the tropical storm may reach hurricane strength by tonight. As I mentioned on Thursday, we normally do not track tropical systems in the Pacific, but the Disney Wonder is scheduled to embark on a 14-night Eastbound Panama Canal Cruise later today from San Diego. Disney Cruise Line has sent email to guests sailing on the Panama Canal Cruise to let them know the cruise will sail as planned, but the Captain may need to alter the first few days to avoid Odile. A copy of the email is available in Thursday's Tropical Update for Odile.
8 PM PDT Update | Tropical Strom Odile Strengthening
Tropical Storm Odile forecast track is much closer to the Mexican Rivera this evening. The tropical storm is producing winds of 65 mph with tropical storm force winds reaching toward up to 205 miles from the center of circulation. The system is moving to the northwest at 3 mph after spending part of the day stationary.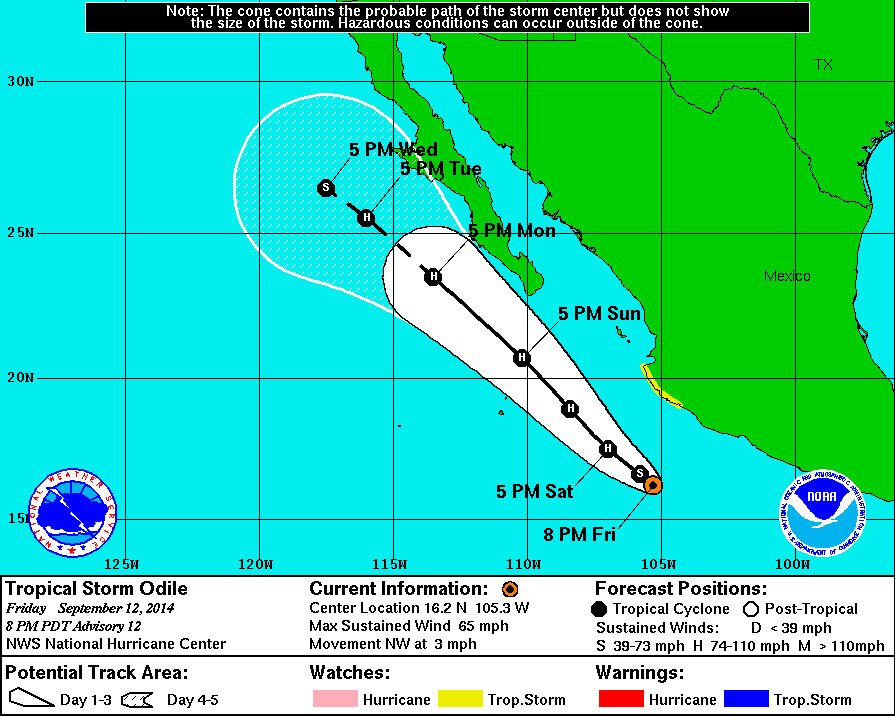 8 AM PDT Update | Tropical Strom Odile Strengthening
Tropical Storm Odile strengthening this morning with maximum sustained winds up to 65 mph and a pressure drop to 994 mb. Odile is approximately 245 miles south west of Manzanillo, Mexico slowly moving to the west at 2 mph. The NHC is forecasting that TS Odile will reach hurricane strength tonight as the cyclone continues to strengthen during the day. Tropical storm force winds are not extending out 205 miles from the center.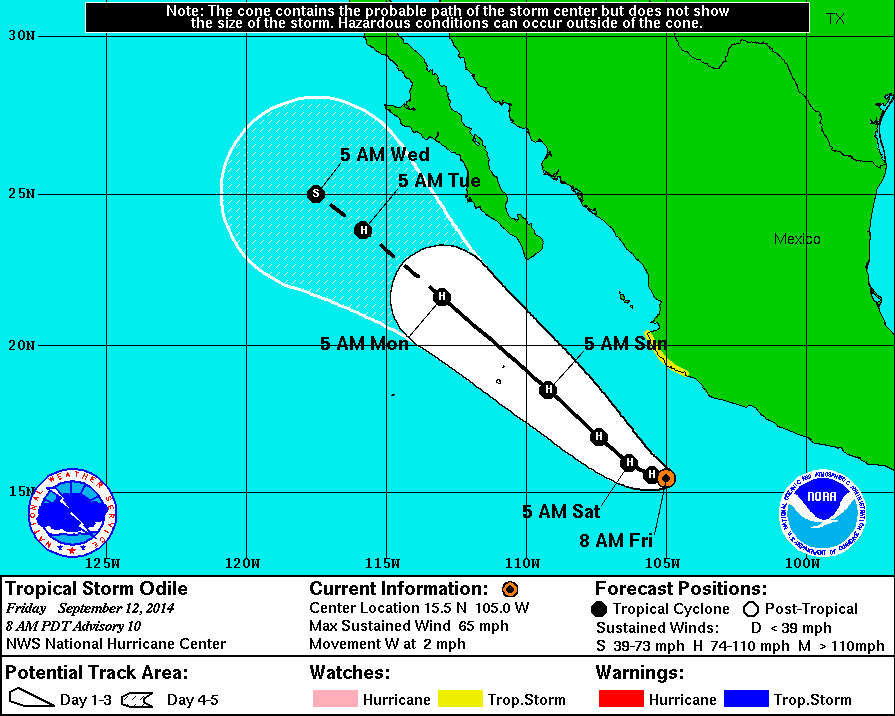 Tropical Storm Odile- Spaghetti Models
Current GOES-Floater Visible Satellite Image
Tropical Cyclone History | Odile
This table contains the NHC's statistics for the tropical cyclone from each advisory.
Date
Time (PDT)
Classification
Max Winds (mph)
Movement/Speed
Pressure (mb)
Sep 10
2 AM
Tropical Depression
(TD15-E)
35
NNW at 1 mph
1006
8 AM
Tropical Storm
40
NW at 3 mph
1005
2 PM
40
NW at 6 mph
1004
8 PM
45
NW at 3 mph
1001
11 PM
45
NW at 2 mph
1001
Sep 11
2 AM
50
W at 2 mph
999
5 AM
50
W at 1 mph
999
8 AM
50
W at 3 mph
999
11 AM
50
W at 2 mph
999
2 PM
60
WSW at 2 mph
997
8 PM
60
WNW at 2 mph
996
Sep 12
2 AM
60
W at 2 mph
996
8 AM
65
W at 2 mph
994
2 PM
65
Stationary
994
8 PM
65
NW at 3 mph
994