June 30, 2014

11 PM Update | Invest 91L upgraded to Tropical Depression One
Just as we are about to finish the chapter of the 2014 Hurricane season, Invest 91L forms into the first tropical cyclone of the season as Tropical Depression One. TD One is approximately 105 miles east south-east of Cape Canaveral, Florida. At this time the depression is producing maximum sustained winds of 35 mph and is move southwest at 2 mph with a pressure of 1009 mb.
A tropical storm watch has been issued fro the east coast of Florida from Fort Pierce north to just south of Flagler Beach. This TS Storm watch does include Port Canaveral. Tropical storm conditions are possible within the watch are by the end of the day on Tuesday. At this time Port Canaveral is open for business as usual.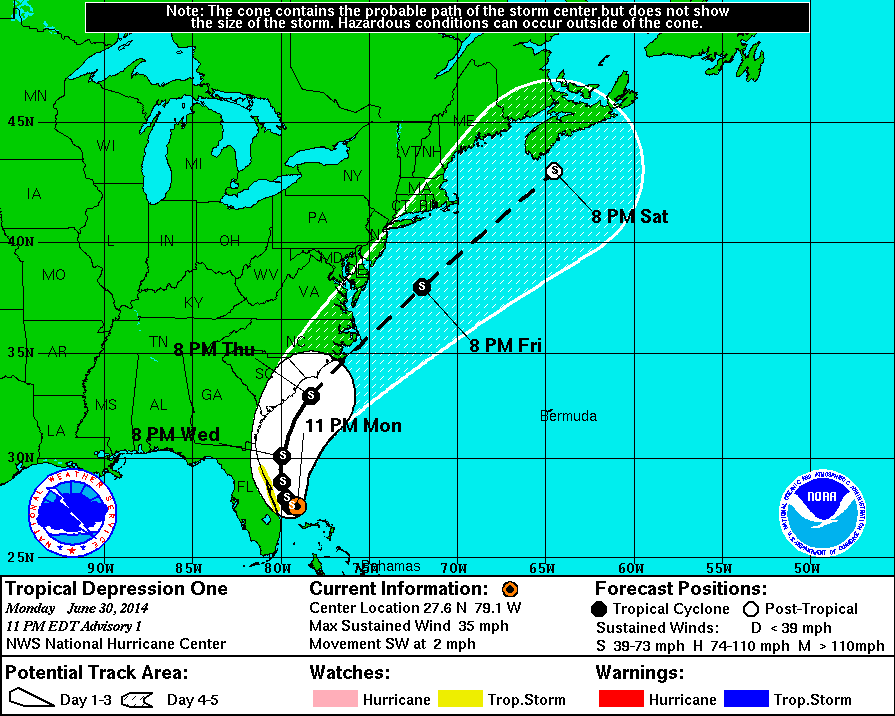 Tropical Cyclone History
This table contains the NHC's statistics for the tropical cyclone from each advisory.
Date
Time (EST)
Classification
Max Winds (mph)
Movement/Speed
Pressure (mb)
June 28
—
Invest 91L
June 30
11 PM
Tropical Depression
35
SW at 2 MPH
1009