11 PM Update | Depression Strengthens into Tropical Storm Gabrielle
It is official, Tropical Depression 7 is now Tropical Storm Gabrielle. TS Gabrielle's primary threat will be that she will likely produce heavy rain over portions of Puerto Rico and the Dominican Republic.  TS Gabrielle is moving northwest at 8 mph with maximum sustained winds of 40 mph.  Tropical storm force winds are extending outward up to 45 miles.
The forecast track remains steady for tomorrow then will turn toward the north-northwest on Friday along with a decrease in forward speed.
Recon has determined the cyclone is tilted (the center of circulation is at lower levels is not directly underneath the center of circulation at upper levels.  This tilt, dry air readings in the middle and possible land interaction should help keep Gabrielle at bay for the short term.  The official intensity forecast from the NHC is in agreement with models for the next 24 hours.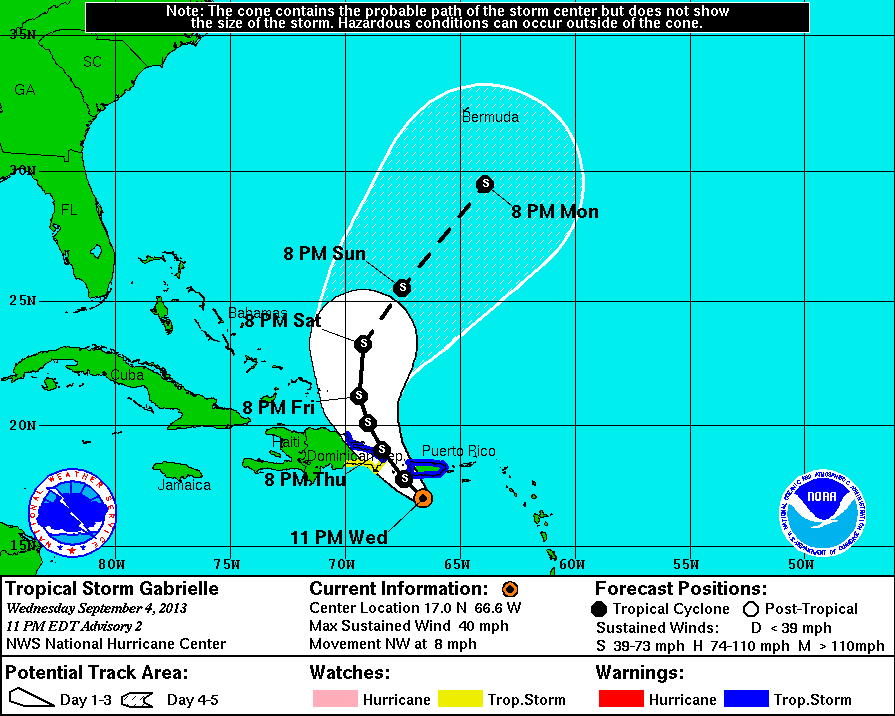 8 PM Intermediate Update | Tropical Depression 7 Expected become Tropical Storm Gabrielle Tonight
The National Hurricane Center has issued an intermediate advisory on Tropical Depression 7 this evening. TD 7 has changed course and slowed down considerably, now moving north-northwest at 2 mph. Maximum sustained winds remain at 35 mph with a 1mb drop in pressure over the last 3 hours.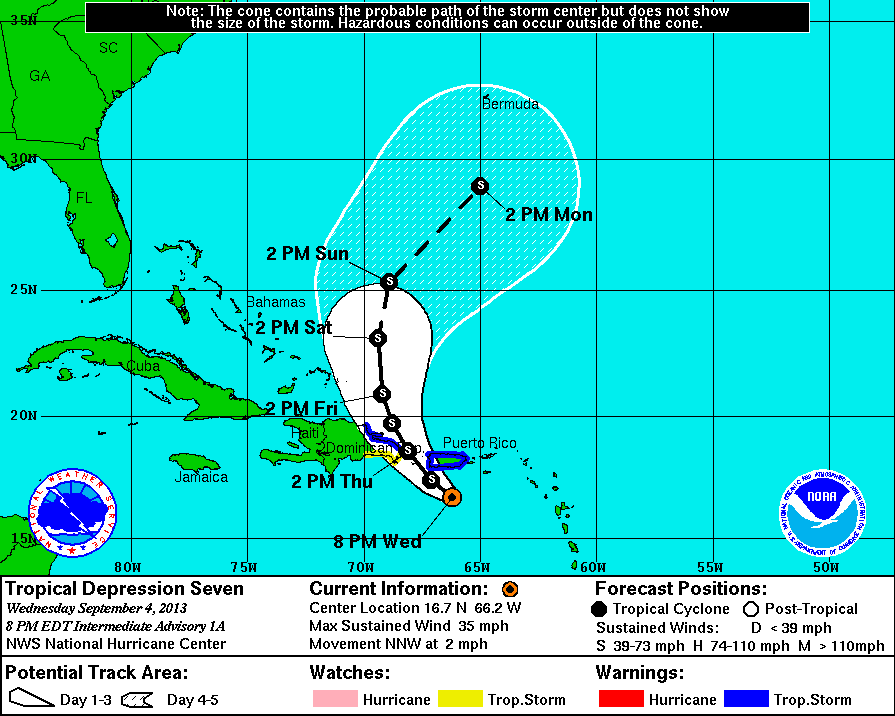 The previous watches and warnings remain in effect.
The system has been drifting slowly the last few hours, but is expected to kick back into gear overnight and is expect to become Tropical Storm Gabrielle overnight.  A turn towards the north-norhtwest is still expected, but until it does it will pass near Puerto Rico early Thursday and the Dominican Republic later in the day tomorrow.
5 PM Update | Hurricane Hunters confirm circulation Invest 97L is officially Tropical Depression 7
This afternoon's recon flight has confirmed that Invest 97L now has a closed area of circulation, and is now Tropical Depression 7. Tropical Depression 7 is presently located 130 miles south of San Juan, Puerto Rico and 205 miles southeast of Punta Cana, Dominican Republic. TD7 is moving northwest at 9 mph with maximum sustained winds of 35mph and a minimum central pressure of 1009mb.
Tropical storm watches and warnings have been issued for the coast of the Dominican Republic.  A tropical storm warning has been issued for Puerto Rico.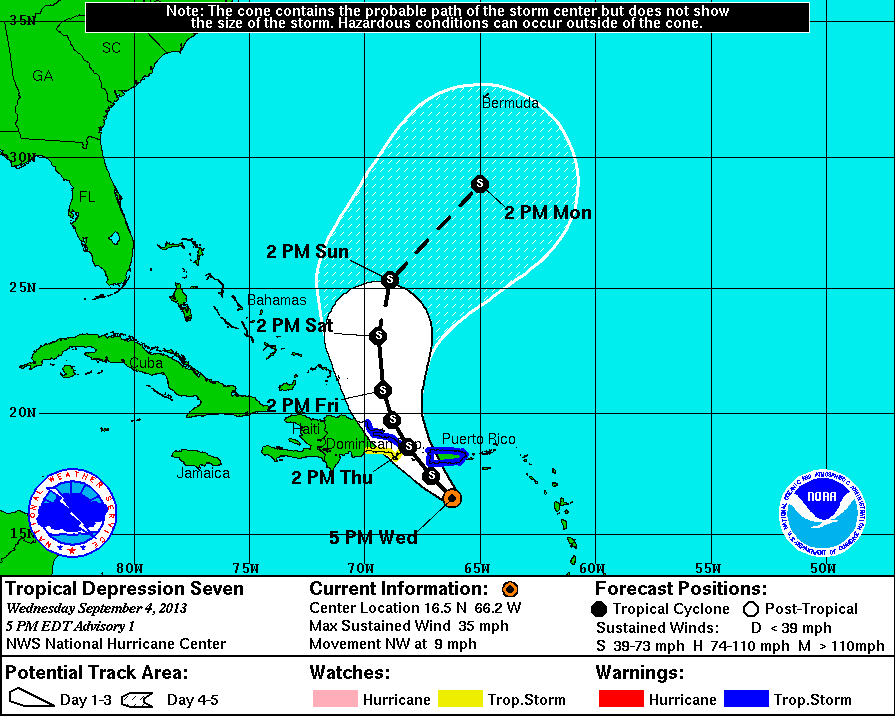 The forecast indicates the system will strengthen further to Tropical Storm Gabrielle in the next 12 hours as it moves towards the Dominican Republic.  The long range forecast track shows the system moving away from the Bahamas into the Atlantic Ocean.
Tropical Depression 7 | System History
This table contains the NHC's statistics for the tropical cyclone from each advisory.
Date
Time (EST)
Classification
Max Winds (mph)
Movement/Speed
Pressure (mb)
Sept 4
5 PM
Tropical Depression
35
NW at 9 mph
1009
8 PM
35
NNW at 2 mph
1008
11 PM
Tropical Storm
40
NW at 8 mph 
1008