Current tropical weather information for the Atlantic Ocean with the latest information from the National Hurricane Center on all tropical depressions, tropical storms, and hurricanes.
National Hurricane Center - Atlantic Tropical Weather Outlook
Published October 22, 2017 7:21pm EDT

000
ABNT20 KNHC 222320
TWOAT

Tropical Weather Outlook
NWS National Hurricane Center Miami FL
800 PM EDT Sun Oct 22 2017

For the North Atlantic...Caribbean Sea and the Gulf of Mexico:

A broad area of low pressure is expected to form over the
southwestern Caribbean Sea in a few days. Slow development of
this system is possible thereafter while it moves northwestward
to northward.
* Formation chance through 48 hours...low...near 0 percent.
* Formation chance through 5 days...low...30 percent.

$$
Forecaster Stewart

Source:
National Hurricane Center
Current Tropical Systems
No current storms in the Atlantic Basin
Source: National Hurricane Center Spaghetti Models: SFWMD
Spaghetti Models for Invests 90-99L
There are no invest spaghetti models available at this time from
SFWMD
.
Forecasting Tools
Sea Surface Temperatures
SSMI/SSMIS-derived Total Precipitable Water - North Atlantic
Visible GOES East Satellite Loop
Atlantic Surface Analysis
48 Hour Tropical Cyclone Formation Probability
NOAA Tropical Cyclone Formation Atlantic Basin
North Western Atlantic Wave Heights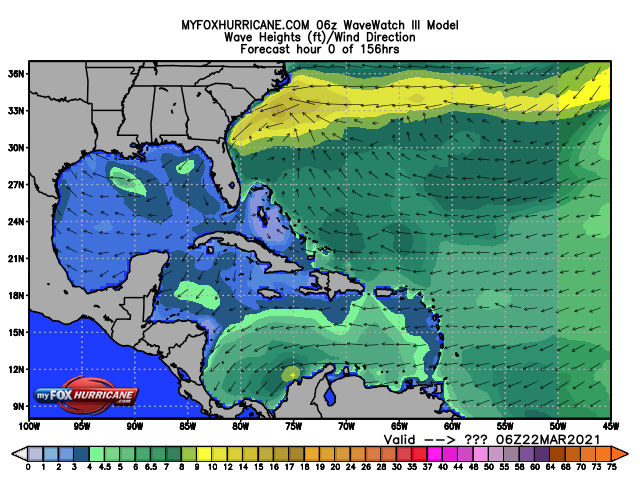 Satellite Loop
Tomorrow's Atlantic Surface Analysis
DISCLAIMER
Weather data is provided by a third party. This data is provided for your general information only, and should not be treated as an official forecast. Please consult your local and national weather reports for you weather making decisions.