Current tropical weather information for the Atlantic Ocean with the latest information from the National Hurricane Center on all tropical depressions, tropical storms, and hurricanes.
National Hurricane Center - Atlantic Tropical Weather Outlook
Published May 24, 2018 7:23pm EDT

000
ABNT20 KNHC 242323
TWOAT

Special Tropical Weather Outlook
NWS National Hurricane Center Miami FL
725 PM EDT Thu May 24 2018

For the North Atlantic...Caribbean Sea and the Gulf of Mexico:

A broad surface low drifting slowly northward over the eastern
Yucatan Peninsula has become better defined since yesterday,
although the associated associated shower and thunderstorm activity
is poorly organized due to strong upper-level winds. However,
environmental conditions are forecast to become more conducive for
development, and a subtropical or tropical depression or storm is
likely to form during the weekend over the eastern or central Gulf
of Mexico. Please see high seas forecasts issued by the National
Weather Service for information on gale warnings associated with
this system. An Air Force Reserve reconnaissance aircraft is
scheduled to investigate the disturbance Friday afternoon, if
necessary. Locally heavy rainfall is forecast across western Cuba
and over much of Florida and the northern Gulf Coast into early next
week. In addition, the threat of rip currents will steadily
increase along the Gulf coast from Florida westward to Louisiana
over the Memorial Day weekend. For more information on these
threats, please see products issued by your local weather office.
The next Special Tropical Weather Outlook on this system will be
issued by 200 AM EDT Friday morning.
* Formation chance through 48 hours...high...70 percent.
* Formation chance through 5 days...high...90 percent.

$$
Forecaster Beven


Source:
National Hurricane Center
Current Tropical Systems
No current storms in the Atlantic Basin
Source: National Hurricane Center Spaghetti Models: SFWMD
Spaghetti Models for Invests 90-99L
Invest 90L
Forecasting Tools
Sea Surface Temperatures
SSMI/SSMIS-derived Total Precipitable Water - North Atlantic
Visible GOES East Satellite Loop
Atlantic Surface Analysis
48 Hour Tropical Cyclone Formation Probability
NOAA Tropical Cyclone Formation Atlantic Basin
North Western Atlantic Wave Heights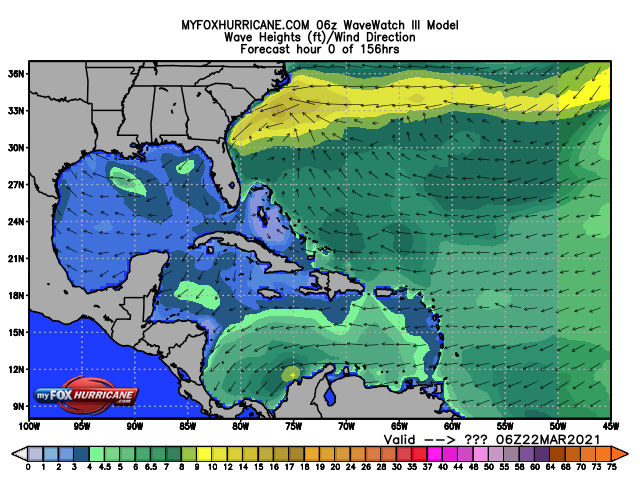 Satellite Loop
Tomorrow's Atlantic Surface Analysis
DISCLAIMER
Weather data is provided by a third party. This data is provided for your general information only, and should not be treated as an official forecast. Please consult your local and national weather reports for you weather making decisions.